Havøysund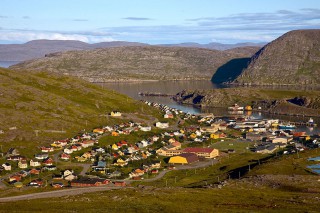 Havøysund 70 ° 59.72 N 24 ° 38.37 E
The small village Havøysund is situated almost exactly on the 71 Degrees north latitude. Currently, about 1200 inhabitants live in this fishing village.
Havøysund is connected by bridge to the mainland. Various services are offered by the inhabitants ; among others , there are two fish factories , a petrol station , doctors , restaurant, bar, pub and disco, a well-stocked supermarkets and a bank ATM card machine . In the center of Havøysund there is the Måsøy Museum, which specializes in the coastal culture . Havøysund is run daily from the ships of the Hurtigruten . From Havøysund you can Ingøy , Rolvsøy , Måsøy and Ryggefjord almost daily by ferry to achieve ( Ryggefjord only in summer).
A half-hour walk to Havøygavlen leads to the highest point of the Havøya Island, from where the " Arctic View" has a great view of the Arctic Ocean and the midnight sun. There is also the northernmost windmill park in the world .